Latest News
---
Posted - 2/11/2015
Smell Gas? Act Fast!
Natural gas is a colorless, odorless fuel, but for safety reasons, a chemical odorant, sometimes described as a "rotten egg" smell is added, making the presence of natural gas detectable.
If you smell this odor:
Alert others and leave the area immediately
Leave the door open as you exit
Do not operate electric lights or other equipment such as telephones, cell phones, or flashlights
Use a phone away from the area and call Scottsboro Water, Sewer and Gas Board at 256-574-1744
Natural gas odors should be reported right away.
If you smell natural gas, call Scottsboro Water, Sewer and Gas Board at 256-574-1744.
Posted - 1/5/2015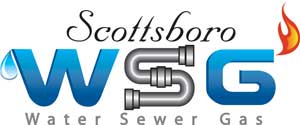 CHECK OUT OUR
NATURAL GAS APPLIANCE
REBATE PROGRAM
EFFECTIVE DECEMBER 1, 2014
UNDER NATURAL GAS
INCENTIVES!
Posted - 8/12/2014
Posted - 6/4/2014
Recently, the Board's Water Treatment Plant Employees and the North Sauty Creek Water Plant were recognized with the Alabama Water Pollution Control Association's "Award of Excellence". This recognition goes to the top water systems around the state for strict compliance with water treatment standards and exemplary water treatment plant performance. Thanks for your hard work and dedication. Job Well Done!